Reka Cables Ltd has been at the forefront of the cable industry for more than 60 years. We provide durable, high-standard cable solutions for renewable energy production, network construction, industry as well residential and office construction. All of our three production facilities are located in Finland: in Hyvinkää, Keuruu and Riihimäki.
The number of professionals working for Reka Cables is around 270. We invest actively in occupational safety, health care and well-being. The fair and equal treatment of the personnel is important for us.
We are a reliable company with a global mindset, whose manufacturing is based on premium materials and cable standards. In addition to Finland, our main market areas are the Nordic and Baltic countries. Our subsidiaries are located in Sweden, Denmark and Norway. Reka Cables is a part of Nexans group.
For the customer and the environment
All Reka's cables are manufactured with green energy and we are constantly taking action to improve energy efficiency in our company. We do not supply cables for new power plant projects that use fossil fuels.
We want to be the best partner by offering durable products for demanding conditions.  We develop and evaluate our operations in order to improve our customers' everyday life. We invest in quality in our procurement, services, operations, and products.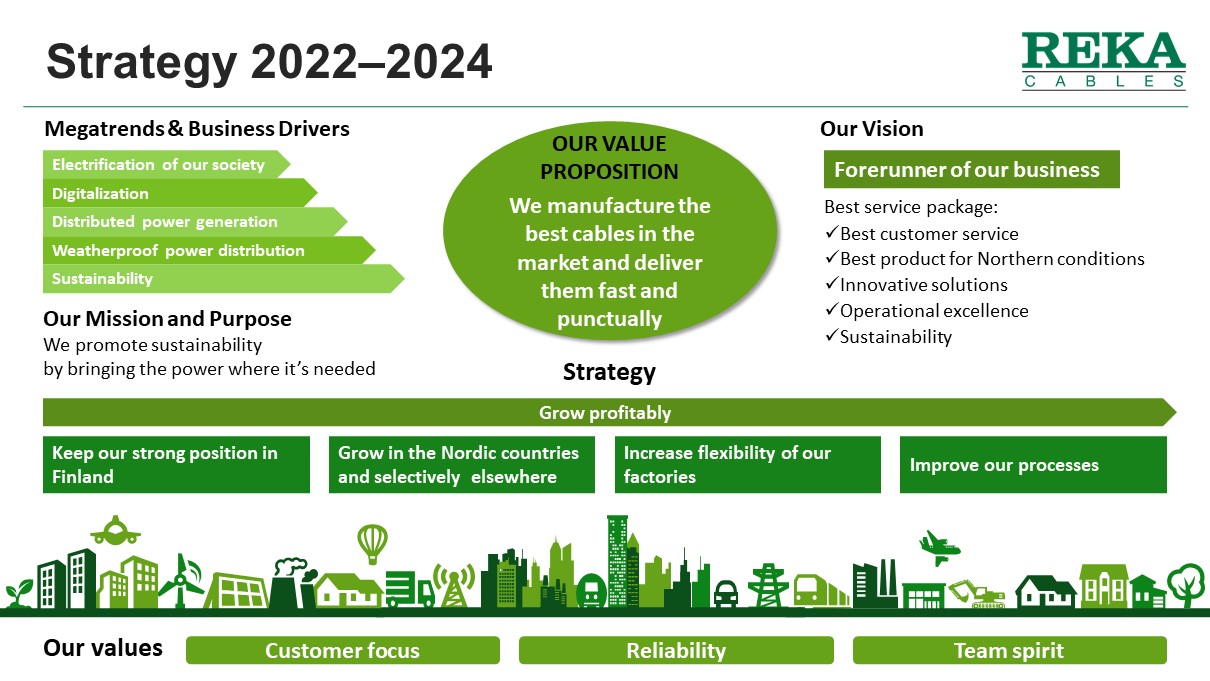 Reka Cables strategy's cornerstones are Reka's values: customer focus, reliability, and team spirit.
Our value proposition is to manufacture the best cables in the market and deliver them fast and punctually. The customer is always at the center of our operations.
270 professionals working for Reka Cables
3 production facilities in Finland
turnover of EUR 172 million in 2022
operating in 4 countries